Lentil Goulash have rich taste and it is meatless. Traditional Hungarian Goulash recipe is very classic but we like also the Lentil Goulash.
But first we clarify that the goulash is a soup in Hungary. So 'gulyás' (goulash) is a soup, 'pörkölt' is a stew, 'paprikás' (paprikash) is a stew with sour cream. And all of main food are fantastic, I often cook them. But I never put sour cream in the Potato Paprikash and I like better the Goulash as the goulash. And I like better the Lentil Goulash as the Lentil Stew.
Fun fact: In Hungary, people usually eat lentils on the first day of the year. The Lentil Goulash and the Lentil Stew very popular at this day. The New Year's superstition is very simple. If you eat lentils at New Year's Day, good luck and lot of money come to the your home. Who dares to risk it?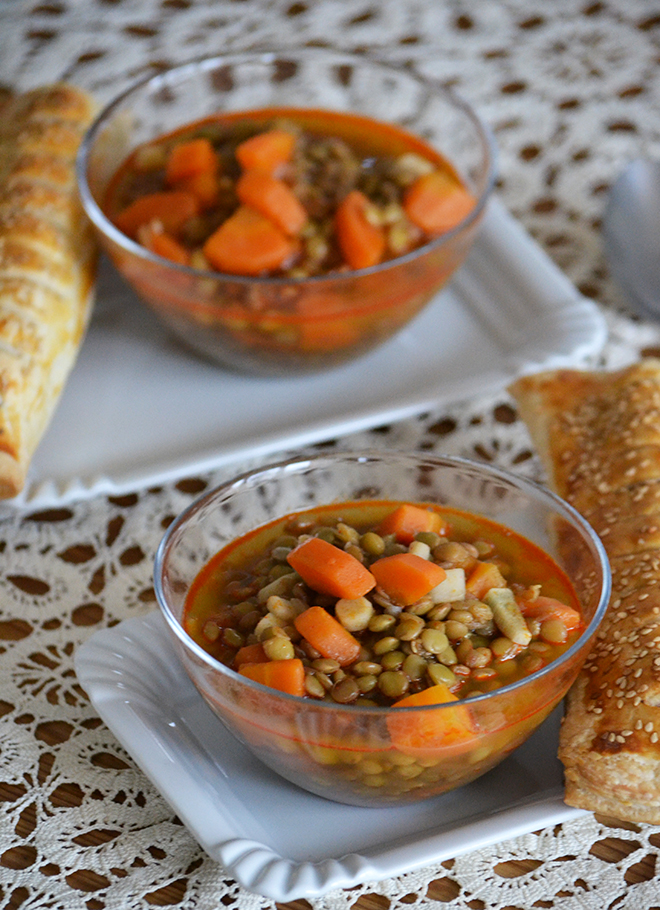 Ingredients
500

grams

lentils

4

carrots

sliced into bite sized rounds

2

parsnips

sliced into bite sized rounds

1

onion

medium, (chopped)

2

bay leaves

3

cloves

garlic

diced

1

teaspoon

Hungarian paprika powder (sweet)

1

teaspoon

carraway powder

pinch of

salt

1

tablesppon

sunflower (or canola) oil

pinch of

crushed chilli or fresh jalapeno
Instructions
First, wash lentils and soak the lentils for overnight.

Heat the oil (or lard) in a large pot (or a Dutch oven) and add the onion and a pinch of salt. Cook slowly until the onions are clear and glassy.

Add the carrots and parsnips to the onion, stirring until 2-3 minutes.

Remove the pot from the heat and add the paprika powder, stirring, add 2,5 liters water to the meat and back to the heat. Note! If the paprika powder is burn, the soup will be bitter.

Add the lentils , bay leaves, garlic, caraway powder and the salt.

Bring to a boil, cover, reduce the heat to medium and simmer until lentils is cooked.

Sprinkle the soup with crushed chili or fresh jalapeno.