Stew with Sauerkraut (Fermented Cabbage) is a very popular in Hungary. We usually eat it at Christmas, but whenever I cook Hungarian Stew with Sauerkraut (Székelykáposzta in Hungarian), that is a feast.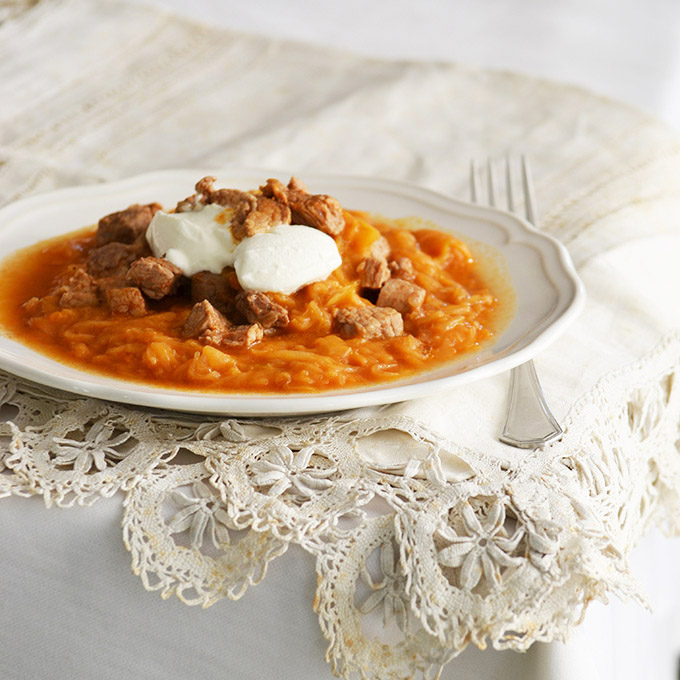 Ingredients
700

grams

pork

(shoulder or ham) diced

1

onion

diced

2

cloves

garlic

diced

1

tablespoon

Hungarian paprika powder (sweet)

1

teaspoon

salt

1

Sweet Hungarian yellow wax peppers (or banana peppers)

diced

1

tomato

diced

700

grams

sauerkraut (fermented cabbage)

250

grams

sour cream (Hungarian: tejföl)

1

tablespoon

sunflower (or canola) oil

2

tablespoons

plain flour
Instructions
Heat the one tablespoon oil (or lard) in a large pot (or a Dutch oven) and add the onion, the garlic and a pinch of salt. Cook slowly until the onions are clear and glassy.

Add the meat to the onion and cook over high heat, stirring, until the meat is no longer pink (about 5-10 minutes).

Remove the pot from the heat and add the paprika powder, stirring, add 3 cups water to the meat and back to the heat. Note! If the paprika powder is burn, the stew will be bitter.

Add the salt, tomato and yellow pepper.

Bring to a boil, cover, reduce the heat to medium and simmer about 40-50 minutes.

Wash the sauerkraut (soured cabbage) once or twice in clear water. (Need to wash some of the salt out of the sauerkraut.)

Add the sauerkraut (soured cabbage) and cook till all soft and well cooked.

In small bowl mix 2 tablespoon flour with ¼ cup water. Then mix with some of the hot liquid from the stew till it can be poured into the hot stew. Add the mix to the stwe, stir thoroughly and let it cook for a little bit longer to thicken.

Add 2-3 tablespoons sour cream in the stew and stir it well.
Notes
Serve with bread on the side and the sour cream on top when plated.