Apple pie is one of my favourite desserts. The basic pie dough (homemade shortcrust pastry) is easy and quick to make, it is thin and soft, the apple filling with the cinnamon is so perfect and so tasty.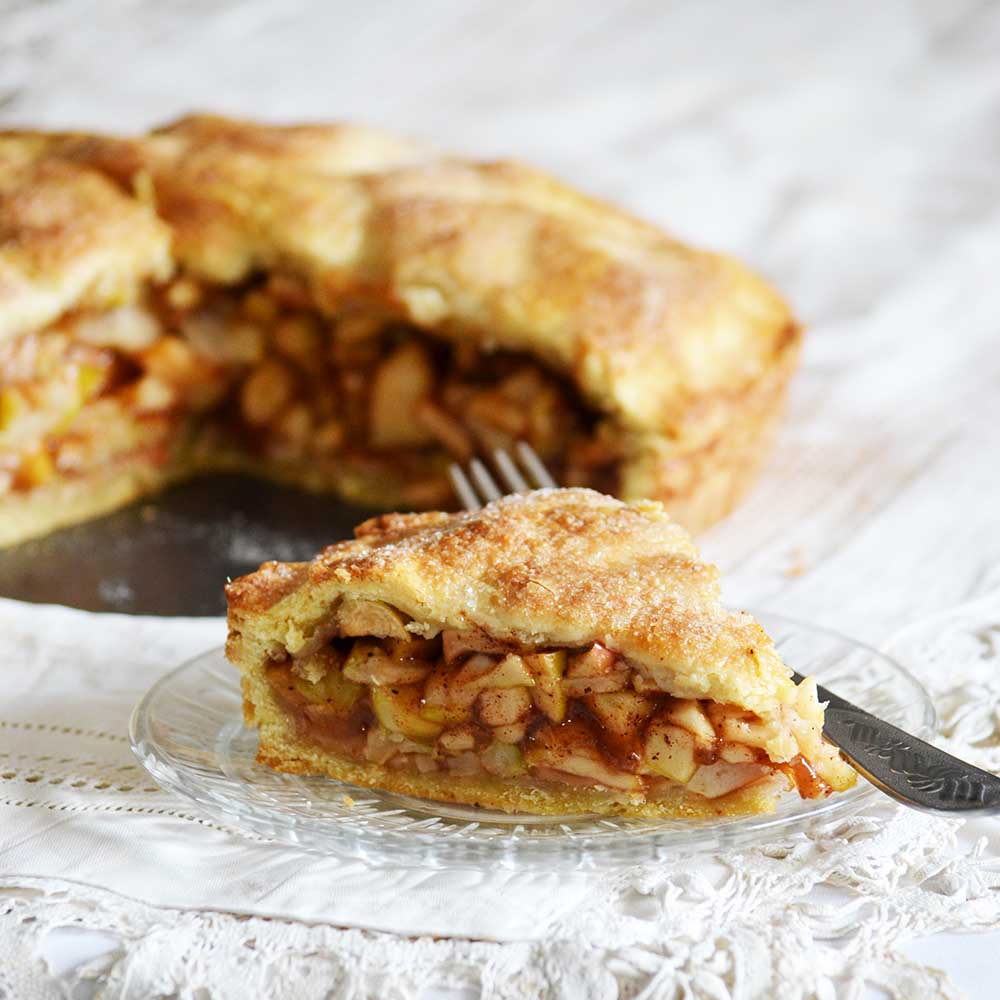 Ingredients
Simple Shortcrust Pastry (Basic Pie Dough) for Apple Pie
400

grams

all-purpose flour

250

grams

butter

(or margarine)(diced)

pinch of

salt

100

grams

sugar

(plus 2 tablespoons of sugar for pie top)

4-6

tablespoons

cold water

2

tablespoons

milk

(for pie top)

zest from half a lemon
Apple Pie Filling
4-5

apples

(cored and little diced)

200

grams

sugar

2

tablespoons

juice of lemon

1

tablespoon

cinnamon powder

1

tablespoon

corn starch
Instructions
Simple Shortcrust Pastry (Basic Pie Dough) for Apple Pie
In a medium bowl whisk together the flour, sugar, lemon zest and salt.

Add the butter and 4 tablespoons of cold water. Using a fork, work the wet ingredients into the dry ingredients until the dough comes together.

If the dough falls apart, add 2 to 4 more tablespoons of water and continue to press until dough comes together.

Shape dough into a disc, wrap in plastic, and refrigerate for at least 1 hour or overnight.
Apple Pie Filling
In a large bowl combine apples with 2 tablespoons of sugar and juice of lemon. Let it rest for 20 minutes and filter it.

Mix apples, sugar, cinnamon powder and corn starch.
Assemble the Apple Pie
Preheat oven to 190 ℃ (375°F).

Remove the pie dough from the refrigerator and let sit at room temperature for 5-10 minutes.

Cut the dough in half. Roll out one of piece of dough and line the pie pan.

Spoon apples mixture into pie pan.

Roll out the remaining dough and cover the pie. Seal by crimping edges as desired.

Brush with milk on the top and sprinkle with sugar.

Cut several steam vents across top.

Bake 50 minutes or until the crust is golden brown.
Notes
If you want, sprinkle with more powdered sugar and serve while still warm with whipped cream or vanilla ice cream. But warm or cold apple pie is very great by itself, our family like it.
Also try: Classic Sour Cherry Pie or Hungarian Quark Pie.