This Black Beluga Lentil Salad with yellow mustard sprouts is super easy to whip together. Just toss the ingredients and ready a perfect side dish or a main course.
How to growing mustard sprouts?
There are many micorgreen seeds. The yellow mustard sprouts are the very popular but the sprouts of radish, broccoli, ruccola, cress or peas are also very taesty.
The microgreens will take 6-14 days from dry seed to little leaves but the method of growing sprouts is the same.
Soak 3 tablespoons of yellow mustard seed in cold water over the night. Rinse and drain thoroughly.
Put the seeds in a sprouter kit (or a jar and cover with sprouting lid).
Keep the mustard seeds moist and it is important that they receive good air circulation.
Twice a day rinse the seeds with fresh water and drain thoroughly .
Harvest on day 3 or 6, when the small leaves are come and most of them are light green.
What do mustard sprouts taste like?
Mustard sprouts have a taste of medium strong mustard and them flavour a little bit reminiscent of horseradish. The crunchy sprouts almost melt in the mouth.
How to use mustard sprouts or other microgreens?
Before eat the sprouds or microgreens, rinse and drain thoroughly. Do not cook them, eat them freshley.
Add the mircorgreens to any food and use them like seasonings. Fresh yellow mustard sprouds are fantastic with salad, sandwiches – expecially eggs sandwiches –, hotdogs, hamburers and a number of rice or potato dishes.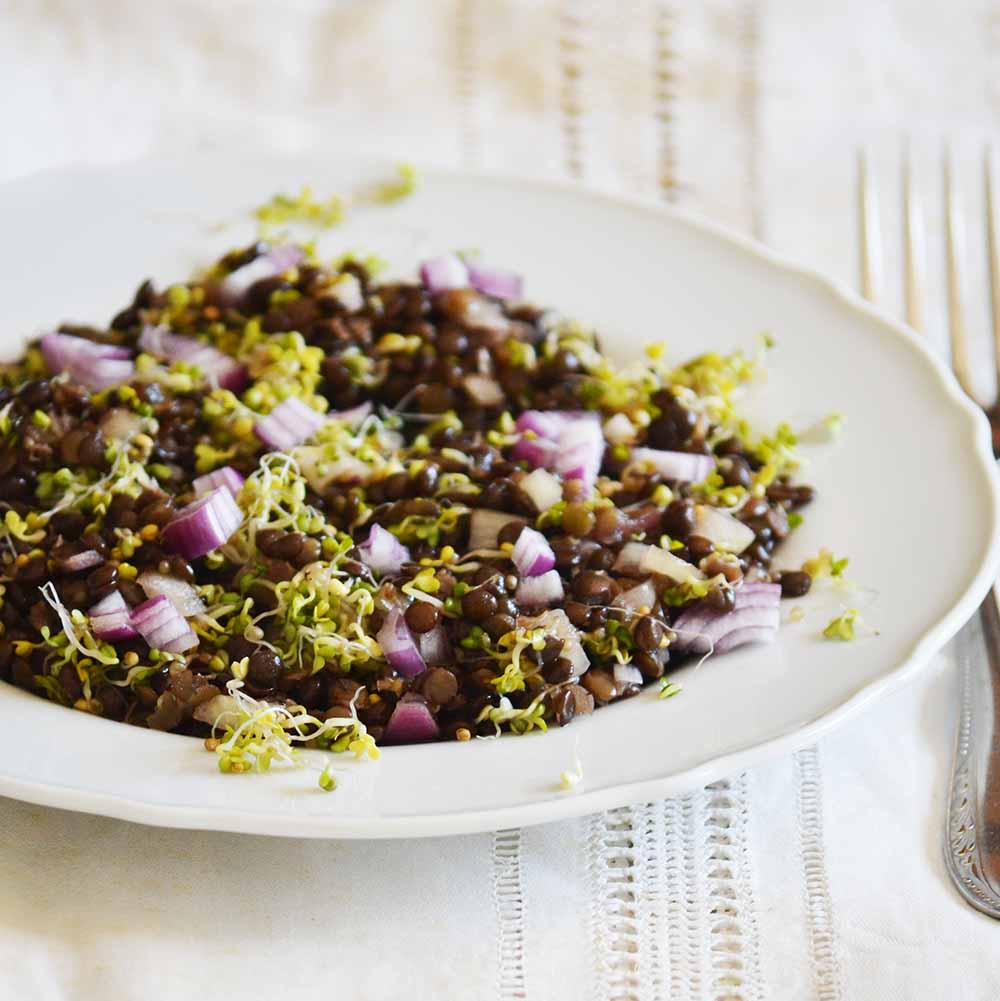 Ingredients
250

g

Black Beluga Lentils

(cooked and drained)

100

g

yellow mustard sprouts

1

red onion

1

tablespoon

honey

1

tablespoon

olive oil

(extra virgin)

1

tablespoon

pomegranate molasses

pinch of

salt
Instructions
Cook the Black Beluga Lentils
Do not need to soak The Black Beluga Lentils.

Pick through the lentils and remove any debris (like tiny stones).

Pour the lentils into a strainer and rinse under running water.

In a medium saucepan add water to the black lentils, boil and cook about 25 to 35 minutes.
Mix the Beluga Lentil Salad
Mix the fine diced red onion with the pomegranate molasses, the honey, the extra virgin olive oil and salt.

Add the cooked beluga lentils. Mix it well.

Sprinkle with yellow mustard sprouts.