Roasted Cauliflower with Harissa is my favourite roasted vegetable which can be a little bit crisp but very tender, golden-brown, spicy and delicious.
Click here for my Homemade Harissa Powder Recipe.
Is stem of cauliflower edible?
Not just the florets of cauliflower, but its stem and its leaves are totally edible. I usually peel the outer "skin" of the stem because it can be a bit hard.
How long to roast cauliflower?
The chunks of cauliflower need to be baked for 20-30 minutes in 200℃ (390℉) in the owen. They need to be tender and caramelized on edges. Smaller cauliflower pieces only need about 20-25 minutes, but larger florets and stems bake for 25-30 minutes. It isn't neccesary to precook the caulifower.
Roasted cauliflower can be served warm or at room temperature.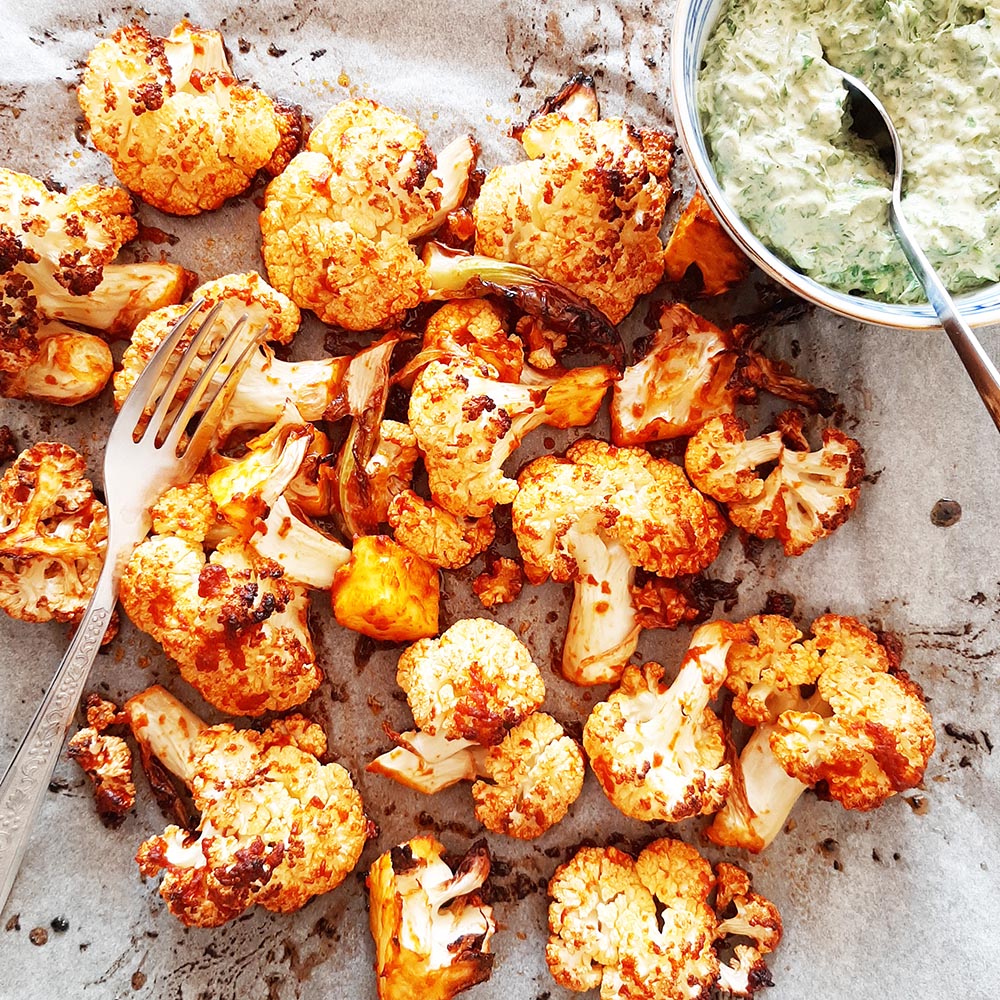 Ingredients
For The Roasted Cauliflower
1

large

cauliflower

1

tablespoon

olive oil

2

tablespoons

harissa powder

1

pinch of

salt
For The Tahini Sauce
1

tablespoon

tahini

½

juice of lemon

1

tablespoon

cold water

1

clove

garlic

minced

1

bunche

parsley

fine chopped

1

pinch of

salt
Instructions
Roast the cauliflower
Preheat the oven to 200℃ (390℉).

Line a baking sheet with baking paper.

Make the marinade by combining olive oil and harissa powder with a pinch of salt in a large bowl and stirring until well combined.

Remove big leaves from the cauliflower and cut into florets. Chop also stems and leaves.

Mix the chunks of cauliflower with harissa marinade than arrange them in the baking sheet.
The Tahini Sauce with parsley, garlic and lemon
In a medium bowl combine the tahini, cold water and juice of lemon.

Add the salt and parsley.

If the tahini sauce is too thick, add more 1-2 tablespoons cold water.
Notes
For the tahini sauce you can use also tahina too.
Instead of harissa powder you can use harissa paste too.