I'm Hungarian. For me the Goulash (Hungarian: "gulyás") is a soup. Generally we cook the Goulash from beef, but I like better the Goulash with pork, caraway and bay leaves.
Fun fact: Every Hungarian family has a traditional, authentic Goulash's recipe but no two recipes are the same. This is my recipe.
I don't care what Goulash is the real. I like this soup anytime but it is a very good comfort food in a cold winter day.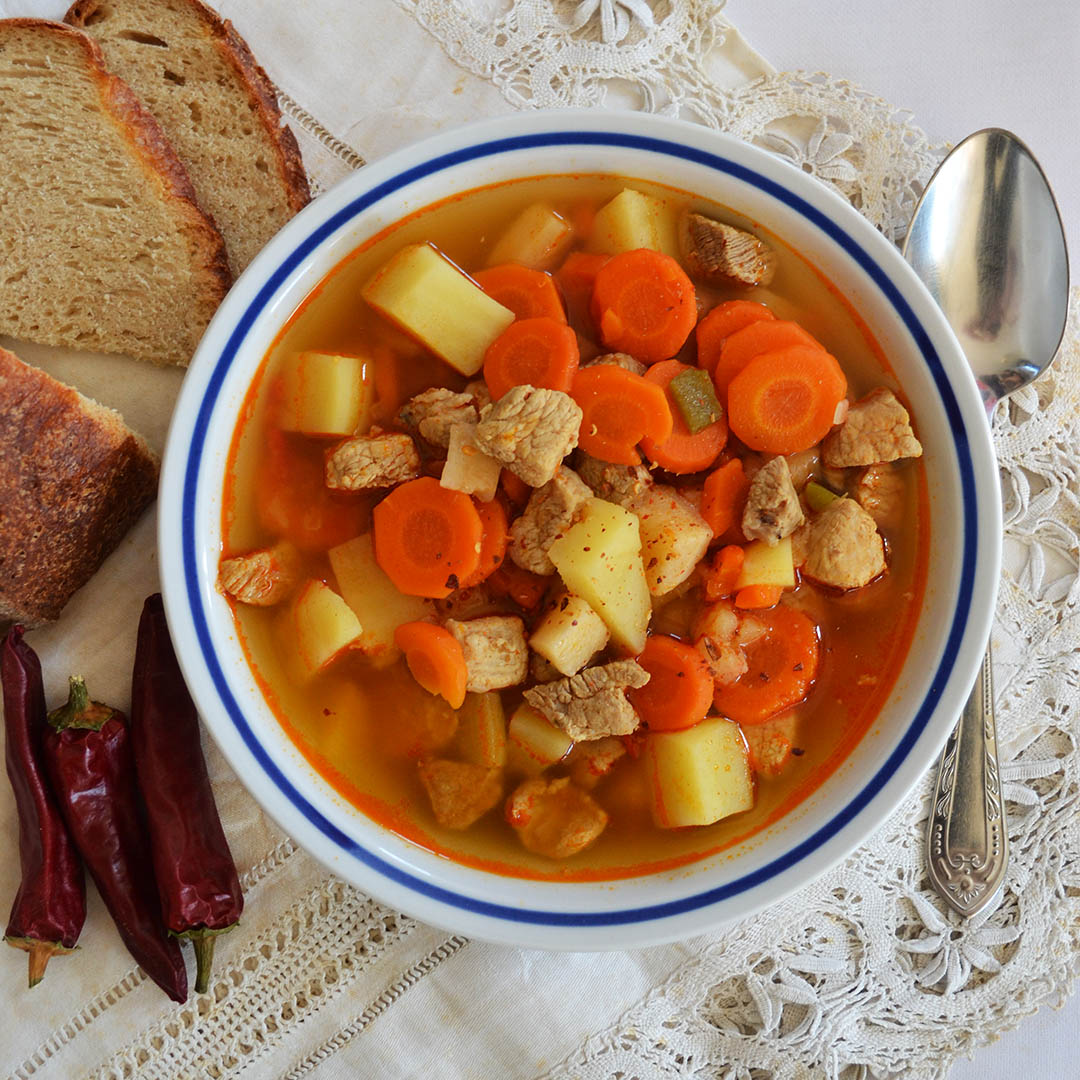 Ingredients
400

grams

pork ham (or beef shank)

(chopped into bite sized pieces)

1

onion

(diced)

300

grams

carrot

(sliced into bite sized rounds)

1

parsnips

(sliced into bite sized rounds)

1

tablespoon

Hungarian paprika powder (sweet)

2

bay leaves

1

teaspoon

carraway powder

2

cloves

garlic

(chopped)

3

potatoes

(diced)

1

tomato

(diced)

1

Hungarian yellow wax pepper or red bell pepper

(diced)

1

teaspoon

salt

sunflower (or canola) oil
Instructions
Heat the oil (or lard) in a large pot (or a Dutch oven) and add the onion and a pinch of salt. Cook slowly until the onions are clear and glassy.

Add the meat to the onion and cook over high heat, stirring, until the meat is no longer pink (about 5-10 minutes).

Remove from the heat and add the paprika powder, stirring, add 3 liter of water and back to the heat. (Note! If the paprika powder is burn, the soup will be bitter.)

Add the carrots, the parsnips, the bell pepper, the tomato, the bay leaves, the cloves of garlic, the caraway powder and the salt.

Bring to a boil, cover, reduce the heat to medium and simmer until the meat is almost cooked.

Add the potatos to the soup and cook for about 20 more minutes.
Notes
I like the Goulash with crushed chili (hot red pepper flakes) or fresh jalapeno.