The Walnut Orange Pie Bars have a delicious buttery shortbread crust and a rich sweet filling full of flavours. These nutty and gooey bars are perfect for the holidays or cold winter sundays.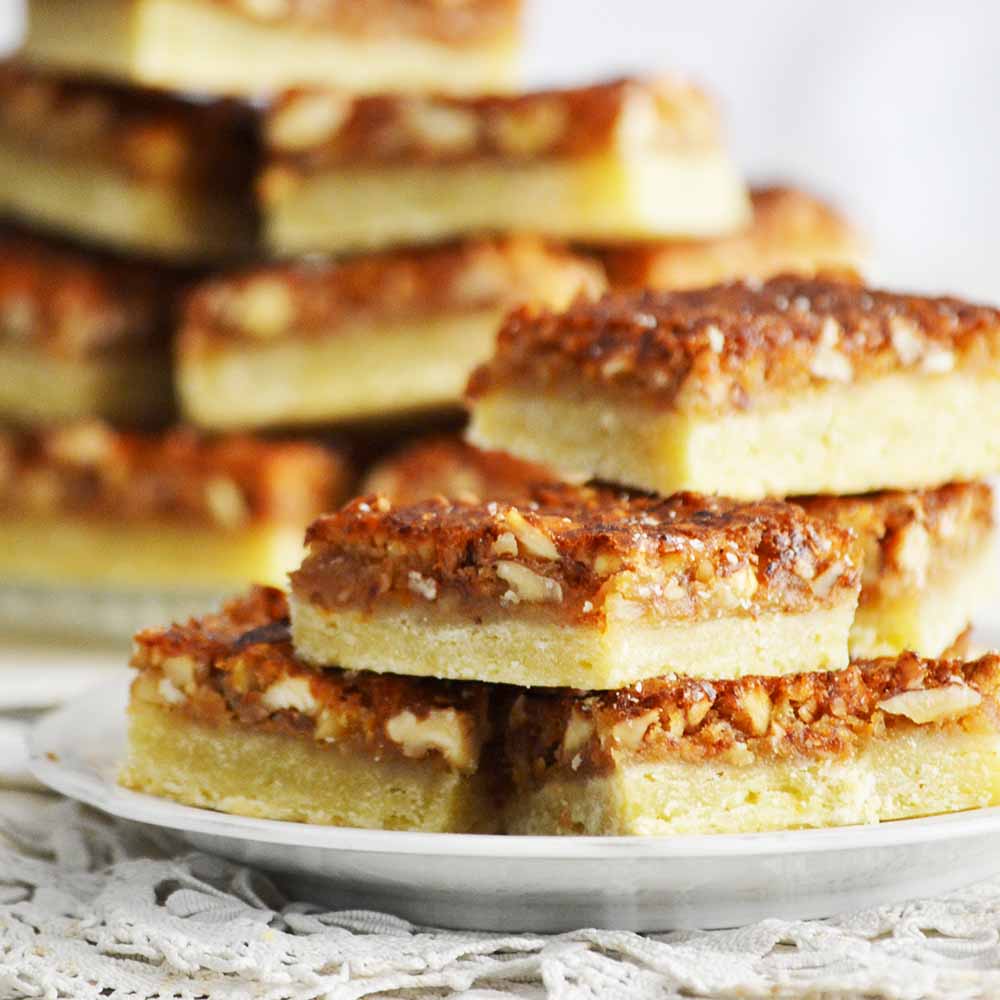 Equipment
1 square cake pan (30 cm x 40 cm/12 in x 16 in)
Ingredients
For the Shortbread (Pie) Crust
400

grams

all-purpose flour

250

grams

butter

3

tablespoons

sugar

5-6

tablespoons

cold water

pinch of

salt
For the Walnut Orange Topping
300

grams

walnut

(no gratered, roughly chopped)

200

grams

sugar

100

grams

honey

(I use linden honey but any honey or corn syrup is perfect.)

100

grams

butter

5

grams

candied orange peels

(chopped)

orange zest

(from an orange)

4

eggs
Instructions
Pulse flour and salt in a food processor to combine.

Add butter and pulse until the mix has the texture of breadcrumbs.

Add cold water over mixture. Pulse until become soft dough. Then dough is little crumbly but holds together when squeezed. If dough is too dry, add more 1-2 tablespoons water and pulse to combine.

Wrap dough in plastic and refrigerate for about 1 hour.

Preheat the oven to 190℃ (375°F).

Line the square cake pan with a baking paper.

Take the dough out of the fridge and roll out the dough.

Put the dough in the prepared baking pan and press down into a level layer.

Bake for about 15 minutes or until just turning a light golden color at the edge.

While the shortbread base bakes make the walnut orange topping. In a medium pan heat the sugar, honey and butter until they are disolved and combined. Do not bring it boil.

Pour the mixture to a cold bowl and stir it for 2-3 minutes. Add the eggs, orange zest and diced candied orange peels and stir it well.

Add the wanlut and mix it well once more.

When the shortbread crust comes out from the oven pour the walnut orange topping over it and smooth.

Bake for about 20 minutes.

Allow to cool and cut it.