Jambalaya is a favorite dish of my sons. I like it a lot too. I make Jambalaya from fresh and frozen ingredients too depending on what season it is. This recipe is an east-european, winter version of jambalaya. And very tasty.
I must say that…
I know the most important ingredient of Cajun jambalayas is the andouille sausage but it is hard to buy it in Hungary. And smoky, spicy Hungarian sausages are very delicious. They are made with pork and they give tasty fat and taste to the Jambalaya.
The three main vegetables of Cajun cooking are onion, celery and green bell pepper. Every summer we grow all of them in our garden, celerys and bell peppers preserved frozen for the winter. Onion is also indispensable ingredient of Hungarian cooking, so it always is at home. Garlic too.
To the winter jambalaya I always add the carrots, sometime the parsnip too.
I do not add chicken broth to the Jambalaya because the seasonings, vegetabeles and meat (chicken and sausage) make a very delicious tast.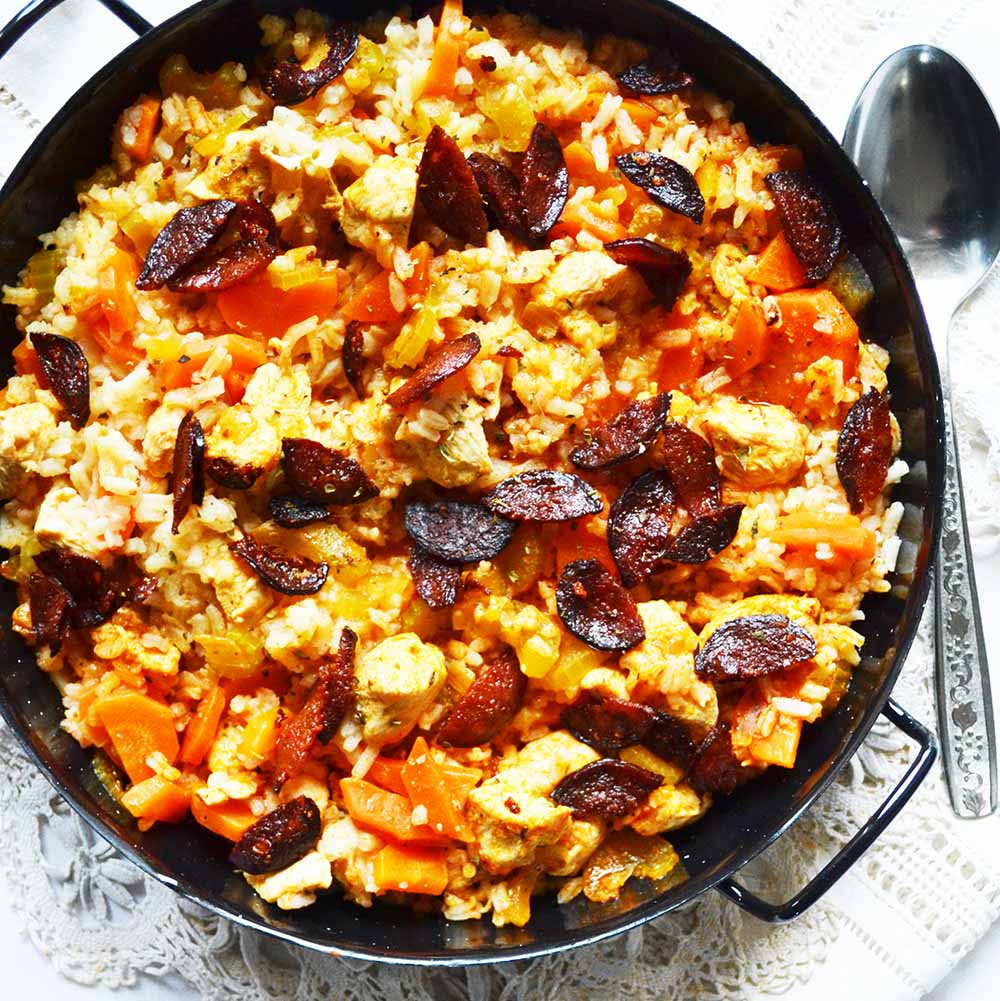 Ingredients
4-5

chicken breasts

(boneless, skinless, diced)

200

grams

Hungarian sausage

(spicy)

3

carrots

(diced)

4

celery sticks

(diced)

1

onion

(chopped)

1

green bell pepper

(chopped)

3

cloves

garlic

(chopped)

1½

teaspoon

Hungarian paprika powder (sweet)

½

teaspoon

dried thyme

½

teaspoon

oregano

(dried)

½

teaspoon

cayenne pepper powder

¼

teaspoon

crushed chilli

300

grams

long-grain rice

1

teaspoon

salt
Instructions
Cut the sausage into thin slices and put in the skillet. Fry on a medium heat until the fat melts and the sausage will be crispy. Using tongs, transfer the crispy sausage to a plate and set aside.

Put the onion, green bell pepper, celery and carrot on the fat of the sausage. Cook and stirring for 2-3 minutes.

Add the diced chicken, cook and stirring until the meat is white (about 5-6 minutes).

Add the salt, paprika powder, thyme, oregano, cayenne pepper, chili and garlic. Stir it well and add 4 cups cold water. Bring to a boil and cook for 5 minutes.

Wash the rice and drain completely.

Add the rice stir once. Turn down the heat, cover and cook for 18-20 minutes. It's important to do not stir the rice because to avoid mushy results.

Turn off the heat and leave the jambalaya to rest for 10 minutes.

Add the crispy sausage, stir once and serve.
Notes
Jambalaya is perfect itself, does not need a garnish or more seasoning. But if you like the very spicy taste, add more cayenne pepper.