The cabbage salad (Hungarian: Csalamádé) is one of the best salad side dishes. It is little bit crunchy and very delicious.
This is my granfather's cabbage salad recipe, the way he always made it.
My grandfather was a chef. He taught the cabbage salad recipe to my mother. We ate always the cabbage salad all through my childhood.
The cabbage salad makes a perfect side dish for beef, pork or chicken stew (Hungarian: pörkölt) and grilled meat.
Few years ago my mother taught the recipe to also me.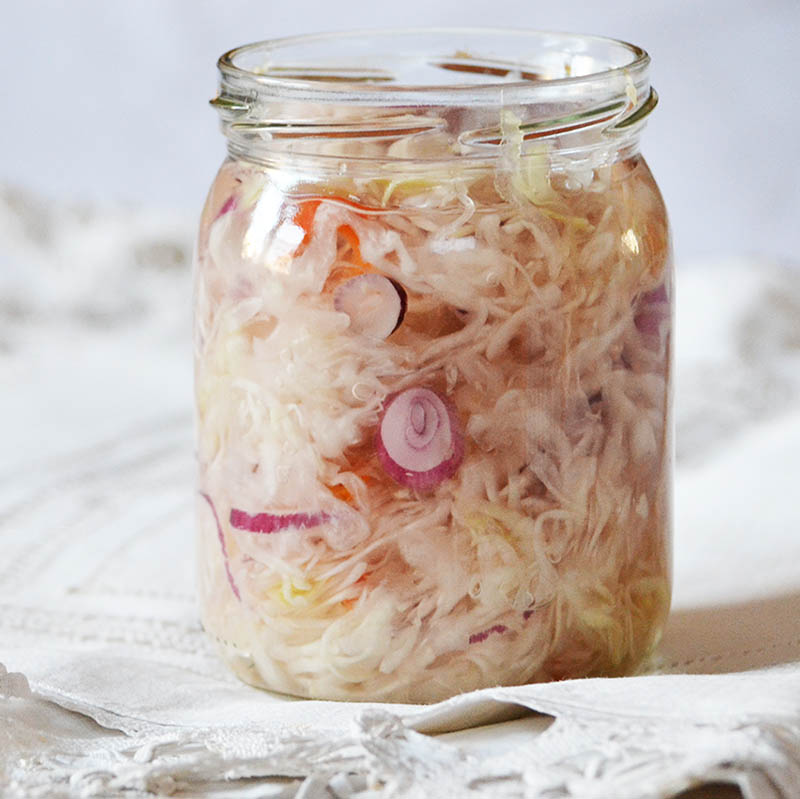 Ingredients
1000

grams

white cabbage

4

red onions

2

red bell peppers

2

teaspoons

salt
Salad Dressing
3

tablespoons

sugar

4

tablespoons

(10 %) white vinegar 

2 cups

cold water
Instructions
Slice the cabbage very thin. (Use the mandoline.) 

Put the cabbage in a large bowl. Sprinkle with 2 teaspoon of salt and mix.

Slice the red onions and the bell peppers very thin. (Use the mandoline.) Sprinkle with a pinch of salt.

Set it aside for 30 minutes. The salt will sweat the vegetable.

When the cabbage softens drain, knead the salad shortly. Then start taking handfuls from the salted cabbage and squeeze them as well as you can.

Squeeze the salted onions and the salted peppers.

In a large bowl add the sugar and the vinegar to the water. Mix until sugar is dissolved. Put the pressed cabbage, the pressed onion and the pressed bell pepper in the vinegar mixture and mix well. Press the vegetable under the vinegar mixture.

Leave it in the fridge for a few hours.
Notes
Will keep fresh for up to 2–3 weeks in the covered jar.
If you want, put cucumber and carrot in the cabbage salad. Sprinkle with salt all vegetable than squeeze them.
You can slice the cabbage, the onions, the cucumbers and the carrots in the same bowl.
The red onions and the red bell peppers color the cabbage in the salted bath that is why important separe them.  
Sometimes the recipes mention adding caraway seeds, but my grandfather (and my mother) never put it in the cabbage salad.